Assisted Living in Bedford, Texas
Contact Us to Learn More!
Assisted Living at Parkwood | All-Inclusive Pricing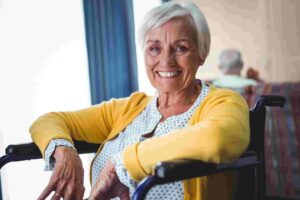 Parkwood Healthcare offers both traditional and enhanced assisted living at an all-inclusive price*. Residents needing enhanced assisted living enjoy a higher level of care than traditional assisted living and receive care that bridges the gap that can exist between traditional assisted living and skilled nursing.
Enhanced Senior Living Services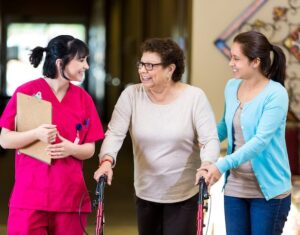 Parkwood's enhanced assisted living program offers a wide range of senior care services, including diabetes management, incontinence management, medical equipment assistance and physical assistance with mobility. If you're looking to avoid paying for extensive home healthcare services, enhanced assisted living is a convenient and cost-effective alternative for you or your loved one.
Benefits of Enhanced Assisted Living:
On-site nursing staff available 24 hours a day, seven days a week
Medication management, including administering injections and working with pharmacy partners for refills
Diabetic management including insulin injections
Chronic incontinence management
Primary care physician** onsite three days a week to manage chronic health conditions and work to prevent hospitalization
In-house outpatient rehabilitation***
Physical assistance with ambulation and transfers (not requiring a medical lift)
Support for many other complex medical challenges and equipment
Featured Senior Care Services & Amenities
Residents at both our assisted living neighborhood and our enhanced assisted living community enjoy a wide range of convenient services and amenities, including:
Health and Wellness Navigation™: Our trained wellness Navigation team partners with residents to anticipate needs and address them—from day-to-day nutrition, fitness and life-enriching activities to preparation and follow-up for hospital care.
A Full Continuum of Care: Should your needs change, you'll have convenient access to skilled nursing, rehabilitative care and memory care services.
Nutritious and Delicious Meal Choices: An important part of living well is eating well. At Parkwood, you'll love the healthy dining options available.
Housekeeping and Laundry Services: Never worry about home maintenance or chores again. Our helpful staff will handle it all, so that you can spend your time enjoying the things you love.
Engaging Events and Activities: It's easy to stay active and involved here at Parkwood. Enjoy our game rooms, parties, special entertainment, movies and much more.
Life Enrichment: At Parkwood Healthcare our Life Enrichment Director is focused on providing sense of community and building great relationships with residents, family members and staff. Lesa Smith, activities director, learns about each resident's story and interests and creates engaging activities that are catered to them. It's a family centric environment where residents are as engaged as they want to be.
Parkwood Healthcare Wins 2022 Best of Senior Living Award
You can take comfort knowing that your loved one is well cared for and living in a community honored with the 2022 Best of Senior Living award from A Place for Mom, the leading online platform and trusted advisory service for senior care in North America. This exclusive designation honors the top 2-3% of nearly 45,000 senior care providers across the country.
Parkwood Healthcare is humbled by the exceptionally positive reviews from their senior customers and their families like this one:
"I moved my parents into Parkwood's Assisted Living wing two months ago. Dad was frail on Hospice and losing weight & Mom has Alzheimer's. The staff at Parkwood couldn't be more friendly and attentive to my parent's needs. Dad has gained 3 pounds since moving in and his doctors and nurses all agree that moving to Parkwood was the right decision. Both Mom and Dad are very happy and content here, and that makes me happy." – Daughter of Residents
* All-inclusive fee covers care level and amenities and utilities with the exception of personal laundry, cable, telephone land line.
** Primary care services are billed separately by the physician.
*** Rehabilitation services are charged to Medicare Part B.
I'm ready to Learn More About Assisted Living!
Site Map | Privacy Policy | Accessibility Statement
2600 Parkview Lane Bedford, TX 76022
2022 Parkwood Senior Living Healthcare. All Rights Reserved.