Independent Senior Living in Bedford, TX
Family, friends and fun. All that's missing is you.
From the moment you set foot on the Parkwood campus, you will feel completely at home in our beautiful apartment community. Independent seniors will feel the Parkwood difference from your first visit.
What's waiting for you at Parkwood?
Friendly neighbors, a family atmosphere, a beautiful campus, good food, and plenty of activities and outings. Plus, peace of mind for you and your loved ones. Come take a tour of our three beautiful independent living apartment buildings, each nestled within our wooded campus, and you won't want to leave. Our layout was designed with active older adults in mind. Each building has its own interior courtyard, and our centrally located clubhouse is accessed via partially enclosed breezeways.
New friendships and an extended family.
We're more than just a community. Our residents and staff are one big family. And we love having fun together! Take part in activities, hobbies and cultural events. Enjoy exercise and a variety of outings. Or simply relax and hang out together.
Services and amenities for independent seniors.
Imagine the lifestyle you love now — with true freedom and independence in a great residence, but none of the worries about home maintenance, because Parkwood handles it for you.
Take a Virtual Tour
See firsthand what life's like in our friendly, family-oriented community. Take a virtual tour of apartments, common areas and grounds and see why so many choose Parkwood.
Additional services and amenities in our independent living community include:
Two nutritious meals each day
Weekly housekeeping service
True apartment homes with full kitchens, private balconies (or patio) and ample storage
Convenient transportation to local medical appointments, grocery stores and outings
A rental retirement community, with no long-term contracts
A safe, comfortable environment with complimentary emergency call system and monitoring
Extensive daily activities, and a full calendar of events
Exercise and hobby classes
On-site fitness center
Thought-provoking group readings, entertainment, socials and games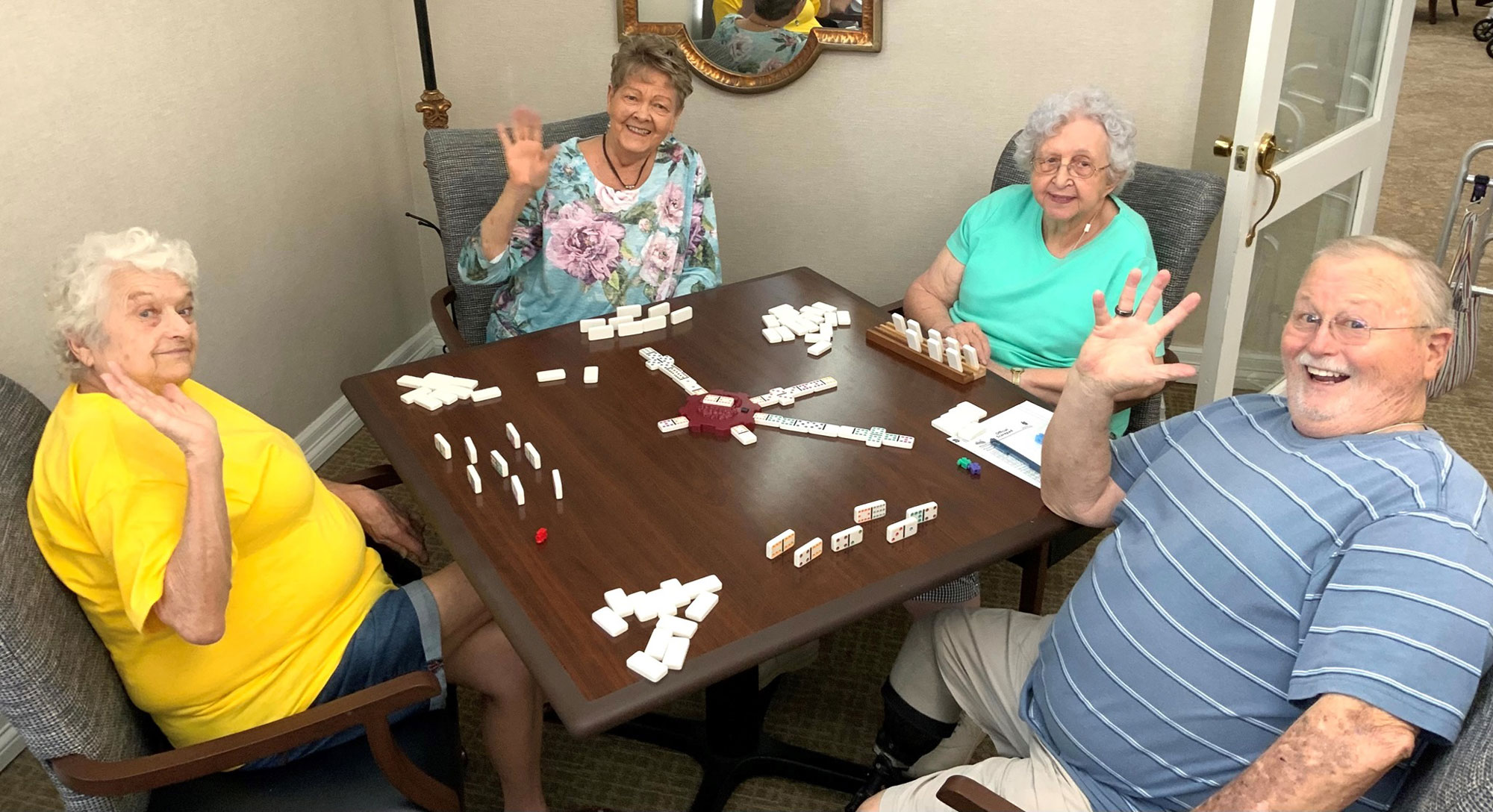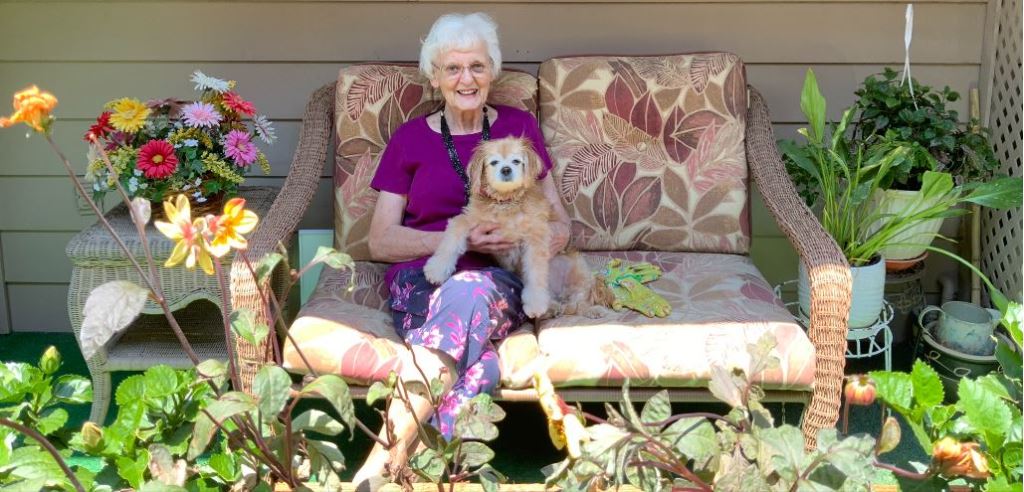 Superior levels of customer service and hospitality
Located immediately behind the Texas Health Harris Methodist Hospital Hurst-Euless-Bedford (HEB) hospital complex — literally minutes away from the highest-quality medical response and care
Beautiful, wooded campus and landscaped courtyards with gazebo
Priority access to higher levels of care on campus
Green space
Gathering areas
Pet friendly
Complimentary laundry facilities
Complimentary Wi-Fi
Salon services (extra fees apply)
Check out our floor plan options for independent seniors.
Choose from our one-bedroom and two-bedroom apartments — each with a large balcony or patio. You'll also have a full kitchen and spacious living areas designed to make you feel right at home. Plus, all of our independent living apartments are pet-friendly!
What makes Parkwood different?
Residents at Parkwood enjoy the serenity of a beautiful, wooded campus surrounded by green space nestled in a quiet, residential neighborhood. We offer a ton of benefits for independent seniors:
Affordability. Parkwood is one of the most affordable options in the Hurst-Euless-Bedford (HEB) area. We understand that our residents' circumstances sometimes can change rather abruptly, thus we operate with month-to-month leases. Residents enjoy the monthly rent with no buy-in expenses and no hidden fees.
Full-size kitchens. Kitchens are equipped with full-size refrigerators, stoves and built-in microwaves. They also come with a dishwasher and garbage disposal. You can still enjoy cooking and baking some of your favorite dishes.
Cafeteria-style dining. Residents enjoy breakfast and lunch every day in the Club House. There are no long waits, and you can customize your plate any way you like. Staff will plate your selection and deliver it to your table.
Private patios. Residents love the spacious patios allowing them to enjoy their container gardens and sit and enjoy the peaceful, tranquil surroundings.
Tenured staff. Many of our staff have been with us for 10 years or longer; some as long as 20 years. Everyone knows everyone by name. We are family. Many team members have worked at our community for years; thus residents build long-lasting relationships with staff and enjoy the continuity of service.
Green space. Parkwood is a beautiful community nestled in the woods in one of the prettiest parts of Bedford. Surrounded by mature trees, you'll find ample shade for outdoor enjoyment and a great environment for walking your fur baby. It is easy to enjoy fresh air—walking, reading on your balcony, gardening, or sharing benches with friends to just chat and enjoy each other's company.
Positive reviews and reputation. Don't take our word; check out our online reviews. Our residents and their family members are eager to share their experiences online. Parkwood Retirement is the winner of the 2023 Best of Senior Living award from A Place For Mom. This is our eigth consecutive year to receive this honor. This exclusive designation honors the top 1-2% of nearly 45,000 senior care providers across the country determined by the reviews of seniors and their families. Additionally, Parkwood Retirement earned the 2023 Caring Star award for service excellence in senior living by Caring.com, a leading senior living referral service and the nation's top site for senior care reviews. Parkwood Retirement is one of two senior living communities in Tarrant County to earn this distinction.
Access to quality medical care. Parkwood Retirement is conveniently located next to Texas Health Harris Methodist Hurst-Euless-Bedford (HEB) Hospital. We also provide free transportation Monday through Friday to doctor appointments.
Continuum of care. Parkwood Retirement is located on the same campus as Parkwood Healthcare and we are the only community in Hurst-Euless-Bedford, also known as HEB, that offers all levels of care on one campus.
And your future? We've got it covered right here.
Sure, you have several options when it comes to independent living in Bedford, but Parkwood is the only community that offers a full continuum of care. That means we don't just offer comfortable living accommodations with access to life-enriching services and amenities, but also a true plan for your future. Conveniently located next door within our community, we offer assisted living, skilled nursing, rehabilitative care and memory care services, all in the place you already call home.
Parkwood recognized by residents and family!
2023 Best of Senior Living Award
We're proud to be selected as a 2023 Best of Senior Living award winner from A Place for Mom, Inc., the largest senior living referral service in North America. This exclusive designation honors the top 1-2% of nearly 45,000 senior care providers across the country.
2023 Caring Star Award
Parkwood is also the recipient of the 2023 Caring Star award with honest feedback from our residents and families. Parkwood Retirement is one of two senior living communities in Tarrant County to earn this distinction.
Two nutritious meals each day
Weekly housekeeping service
True apartment homes with full kitchens, private balconies (or patio) and ample storage
Convenient transportation to local medical appointments, grocery stores and outings
A rental retirement community, with no long-term contracts
A safe, comfortable environment with complimentary emergency call system and monitoring
Extensive daily activities, and a full calendar of events
Exercise and hobby classes
On-site fitness center
Thought-provoking group readings, entertainment, socials and games

Superior levels of customer service and hospitality
Located immediately behind the Texas Health Harris Methodist Hospital Hurst-Euless-Bedford (HEB) hospital complex — literally minutes away from the highest-quality medical response and care
Beautiful, wooded campus and landscaped courtyards with gazebo
Priority access to higher levels of care on campus
Green space
Gathering areas
Pet friendly
Complimentary laundry facilities
Complimentary Wi-Fi
Salon services (extra fees apply)